Update: December 2011
Nature education continues to delight urban kids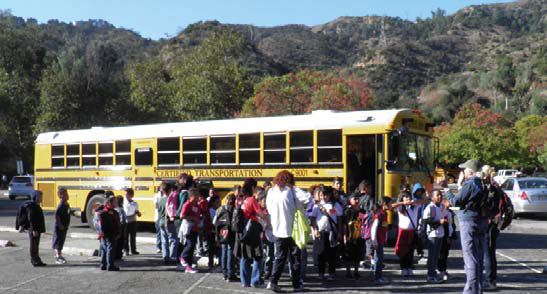 Working with the Sierra Club's Inner City Outing Committee, Friends of Griffith Park has exposed some 320 students from Los Angeles area urban schools to the natural history and outdoor fun found in Griffith Park. Since March 2011, we have variously underwritten bus transportation, provided lunch, supplied seasoned hike leaders to act as Park guides, and arranged for experts on the Park's flora and fauna to impart their knowledge and enthusiasm to the kids. Using the Park's trails as a path to learning, students have not only absorbed lessons about ecology and history, they have learned hiking skills and discovered the joy of outdoor exercise, healthy habits that we hope will last a lifetime. Thank you to the Sierra Club ICO Committee, committed teachers, and to everyone who has facilitated this program which we plan to continue and expand.
Here's a story about an earlier hike in March, the first of eight hikes during 2011:
Sixth-graders conquer a peak, encounter the natives and have a blast on Griffith Park's second Landmark Anniversary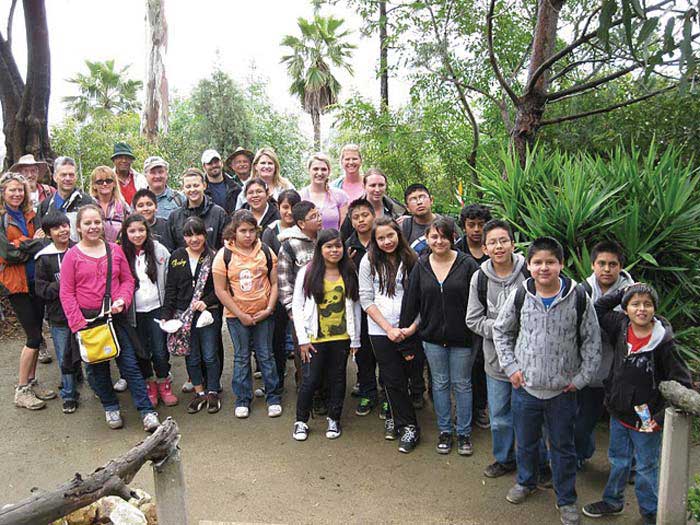 Channeling the spirit of park benefactor Colonel Griffith, to mark the second anniversary of the Park's dedication as a city landmark, Friends of Griffith Park partnered with the Inner City Outings Committee of the Sierra Club to underwrite an outdoor adventure for urban kids. It is the first in a series of outings we are sponsoring to help introduce children to the excitement of the natural world.
On March 27, 2011, twenty sixth-grade students from Camino Nuevo Charter Academy Burlington convened for an outing in Griffith Park that blended outdoor education and enjoyment. Before embarking on a climb to Mt. Hollywood, Friends of Griffith Park's guest biologist Miguel Ordeñana gave the assembled students a tutorial on native bobcats and briefed them on how he studies and maps their movements in the park. He also explained how to identify the tracks of wild mammals and birds, and thanks to recent rains, viewing conditions on the ground were perfect for spotting. Throughout the hike, it was not uncommon to hear a young voice shriek excitedly, "I think I found something!" then see students and adults scrambling to make the discovery together.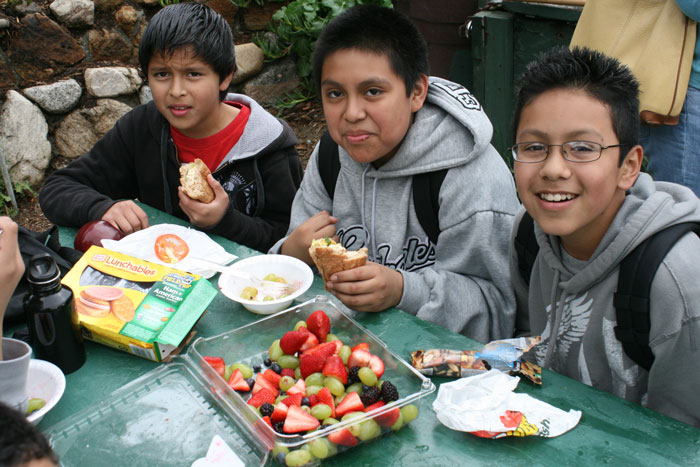 Meanwhile, native flora was pointed out by plant buff, Gerry Hans. The first lesson was that there are native and non-native plants in Griffith Park, and with blooming season in high gear they were all wonderful to behold. By the time Mt. Hollywood peak was reached, the morning fog had lifted revealing breathtaking views of the Hollywood Sign, Los Angeles, and Glendale. Looking out over the park, students were encouraged to reflect on the impact that fires have had in shaping Griffith Park's ecosystems and the roles that people play in helping to preserve and protect the park. Camino Nuevo teacher, Erin Armstrong, writes, "Students have expressed how much they enjoyed the experience and how grateful they were for the opportunity to visit and learn. They especially thank Friends of Griffith Park for providing nutritious snacks and lunches, as well as a bus for transportation between the school and park. Students are excited to return to park to hike with their families and friends, so they are truly becoming invested environmental advocates for the future!"